Your roof is one of the most important elements of your house. Your roof is what protects the interior of your house from Mother Nature. If a storm causes damage to your roof, it's very important to know the steps you should take to protect your home.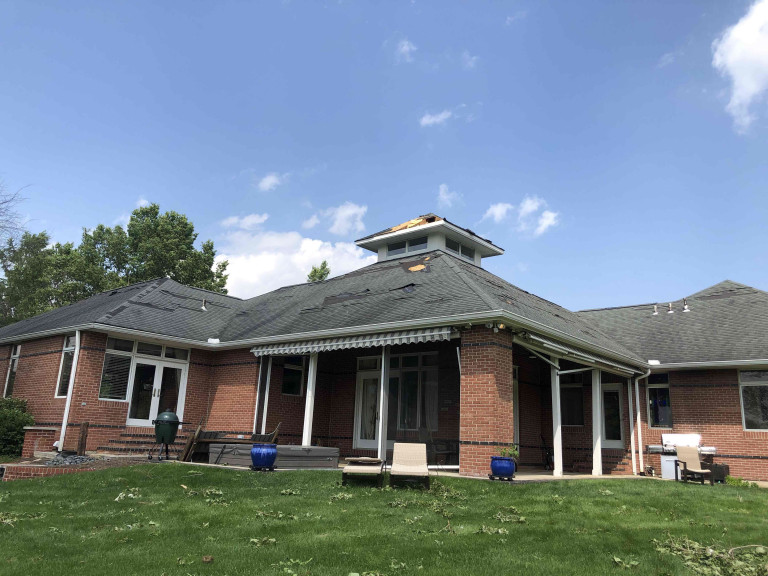 So what are the steps you should take if you think your roof has storm damage?
First off, you need to find a reputable roofing contractor in your area. You can go to Google and search for a roofing contractor near you. From there, you're going to want to check out the reviews. Make sure the roofing contractor you call has plenty of positive reviews from previous customers. Once you find a roofing contractor with positive reviews, the next thing you want to do is call them and make sure they are licensed and insured. The last thing you want is a contractor coming out and getting on your roof without a license or insurance.
After you reach out to a roofing contractor, the next thing that will happen is the roof inspection. The contractor will send someone out to do a roof inspection and to look for storm damage. It's important to know that your roof may have storm damage and you would never know just by looking at your roof from the ground. A lot of times, with strong winds, the wind will break the seal of the shingles and you can't see this from the ground. So you need to get someone on your roof, who knows what they are looking for and can spot wind or other storm-related damage to your roof.

If the inspector finds enough storm damage to your roof, they will recommend that you file a claim with your insurance company. At this point, you would need to contact your insurance to file a claim. Your insurance company will then send out their own inspector to do a roof inspection. If they also find enough damage to your roof, they will pay out for you to get a new roof and you will only be responsible for paying your deductible. If the roofing contractor's inspector doesn't think you have enough damage to file an insurance claim, they will let you know and most likely give you a quote to do some minor repairs to your roof.
Kerrigan Roofing and Restoration, LLC has built hundreds of roofs as a result of insurance claims. If you think your roof may have storm damage, give us a call for a free roof inspection today. We serve the greater Dayton and Columbus, Ohio areas. Give us a call at (937) 848-6056 or (614) 373-2519
"(Required)" indicates required fields