Certified GAF Master Elite® Roofing Contractor
Kerrigan Roofing and Restoration should be your first choice for high-quality roofing services. That's because we're a factory-certified GAF Master Elite® residential roofing contractor. Our unique certification with America's largest roofing manufacturer ensures that your project will benefit from the highest quality products, workmanship and warranties around!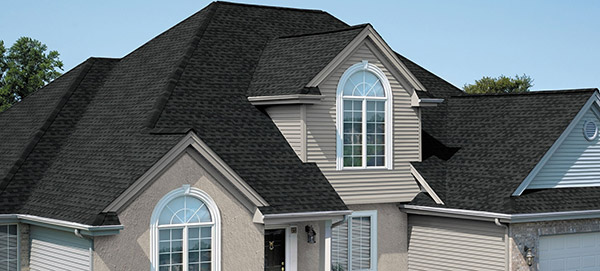 So what does it mean to be a certified GAF Master Elite contractor? It means Kerrigan Roofing and Restoration is:
Fully licensed by the state to perform all types of roofing work.
Insured for our clients' protection.
Reputed in the community as a trusted residential roofing contractor.
Committed to regular professional trainings that help our team stay relevant and ensure top-notch installations.
Only 3% of all roofing contractors in the United States quality as GAF Master Elite, and we're proud to be among them. When you trust your roofing project to Kerrigan Roofing and Restoration, you can feel total confidence that you're dealing with a reputable residential roofing contractor that will take excellent care of your home.
Get the GAF Golden Pledge® Limited Warranty
Thanks to our factory-certified status, Kerrigan Roofing and Restoration is authorized to offer enhanced system warranties to you, including the Golden Pledge® Limited Warranty. It features a 25-year workmanship warranty and wind rating warranty backed by both Kerrigan and GAF! If Kerrigan goes out of business and you have an issue with your GAF roof, GAF has your back. If GAF goes out of business, Good Housekeeping has your back. What other manufacturer can guarantee this for you?


Non-prorated 50-year system warranty plus labor coverage
The warranty is transferable
Sell your house for more!
Learn More About Our GAF Advantages
Call Kerrigan Roofing and Restoration at (937) 848-6056 in Xenia or (614) 373-2519 in Dublin, or contact us online to learn more about how the GAF Golden Pledge warranty can protect your home. We're the local residential roofing contractor looking out for your best interest, so reach out and let us keep you covered!
"(Required)" indicates required fields