Enjoy the Unique Benefits of James Hardie® Exterior Siding
For more than 100 years, James Hardie has produced technologically advanced exterior siding materials, and that excellence has helped it become the #1 siding brand in the United States! Impressive track record, right? It sure is, and there's one thing that makes James Hardie® siding so different from all other siding products on the market: innovation.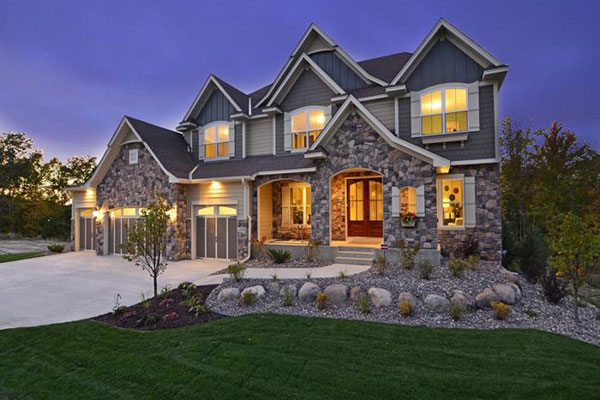 Kerrigan Roofing and Restoration is proud to install state-of-the-art siding on Ohio homes and businesses, and we look forward to protecting your structure with durable and attractive James Hardie products!
James HardiePlank® Lap Siding
Embark on a journey of refinement with James HardiePlank Lap Siding, where elegance takes center stage. Unparalleled in its beauty, this siding option combines the timeless charm of wood with the modern innovation of fiber cement. From smooth to textured finishes, choose from a spectrum of colors to craft a façade that speaks volumes about your style.
With a touch of tradition and a dash of modernity, James HardiePlank captures the essence of your architectural aspirations. Each fiber tells a story of enduring beauty, and each panel stands as a testament to exceptional craftsmanship. As you explore the diverse possibilities, you'll find that this siding choice is not merely an upgrade – it's an elevation of your home's character.
James Hardie® Shingle Siding
Indulge in the classic appeal of James Hardie Shingle Siding, where rustic warmth meets unwavering durability. This option redefines your home's exterior with the timeless charm of cedar shingles, minus the maintenance concerns. Immerse yourself in the nostalgia of traditional aesthetics while embracing the modern resilience of fiber cement.
Every shingle tells a story, exuding a cozy ambiance that welcomes and comforts. Unlike natural wood, James Hardie Shingle Siding withstands the test of time without warping, rotting, or fading. It's a tribute to both elegance and strength, making your home a beacon of enduring charm. Step outside to admire your home's new facade, a true testament to craftsmanship and longevity. In every raindrop and gust of wind, you'll witness the remarkable resistance of this siding against the elements. It's not just siding; it's an investment in the lasting character of your home, a statement that echoes through the years. Experience the fusion of tradition and innovation with James Hardie Shingle Siding. Elevate your home's story and create an exterior that stands as a hallmark of timeless beauty and lasting allure.
James Hardie® Board and Batten
Elevate your exterior with James Hardie Board and Batten Siding, a fusion of wide boards and narrow battens that adds an architectural dimension that turns heads. Whether you're embracing a modern aesthetic that demands clean lines and contemporary flair, or creating a rustic retreat that exudes charm, your home's exterior will undergo a captivating transformation.
The dynamic play between broad boards and sleek battens is more than a design choice – it's an expression of your home's personality. With the flexibility to cater to both modern and classic tastes, James Hardie Board and Batten Siding empowers you to curate an exterior that stands out in the neighborhood. Enhance your curb appeal with this harmonious blend of boldness and elegance. Experience the transformative power of architectural innovation that captures attention and leaves a lasting impression.
James Hardie® Trim Boards
Turn your installation into a true artistry with James Hardie Trim Boards. Every corner, every contour showcases meticulous detailing that converts a house into a harmonious home. From framing windows with grace to adorning every inch of fascia and more, Hardie Trim enriches the character of your residence.
The fusion of artistry and precision comes alive with James Hardie Trim. Whether as an accent that accentuates your exterior design or a seamless bridge between diverse siding styles, these trim boards are the finishing brushstroke that brings your creative vision into full form. Witness the metamorphosis as your home evolves into a masterpiece of architectural finesse, guided by the craftsmanship of James Hardie Trim.
James Hardie® Soffit Panels
Discover James Hardie Soffit Panels – the seamless solution to complete your exterior with finesse. These panels serve as the ultimate finishing touch, concealing eaves while allowing for enhanced ventilation that preserves the integrity of your home. Beyond their functional brilliance, Soffit Panels bestow a polished look that truly crowns your home's transformation.
Your home's exterior makeover reaches its zenith with James Hardie Soffit Panels. Concealing the spaces where your roof extends beyond your walls, these panels create a clean and cohesive appearance that captivates at first glance. Not only do they add a refined aesthetic, but they also play a pivotal role in maintaining a healthy home structure. As the embodiment of elegance and utility, James Hardie Soffit Panels bring the final brushstroke to your exterior canvas, ensuring that your home's beauty is matched only by its longevity.
Request a Free Quote Today
To learn more about the distinct benefits of James Hardie fiber cement siding, please call Kerrigan Roofing and Restoration at (937) 848-6056 in Xenia or (614) 373-2519 in Dublin, or contact us online. Our partnership with America's #1 siding brand means we can bring lasting beauty, cost-saving energy efficiency and valuable curb appeal to your home!
"(Required)" indicates required fields