What to Expect During a Roof Replacement Project
Facing a roof replacement project for your home or business can be confusing and daunting. You may find yourself asking several questions, like: How can you know what to expect from your roofers? How will the construction interfere with your family's lives or the lives of your customers and employees? What can you do to prepare for the roofing crew?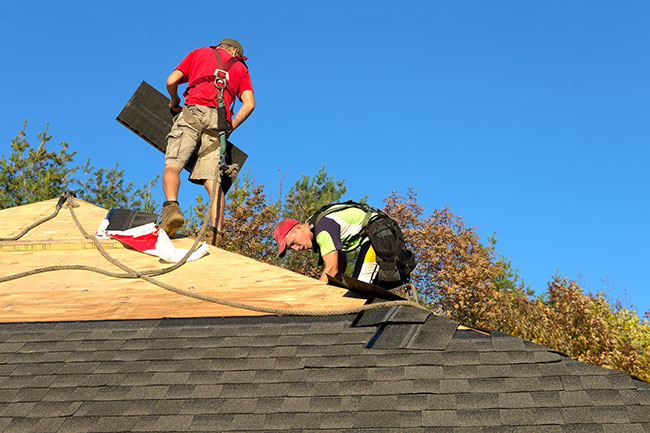 These are all valid questions, and Kerrigan Roofing and Restoration is happy to explain what to expect during a roof replacement. Here are a few helpful tips to make the process as smooth as possible:
Be prepared for noise. There will be a lot of hammering throughout the project, so it may be a good idea to plan some time away from home during the height of construction.
Expect some traffic. A day or so before the work is scheduled to begin, trucks will be unloading lots of materials at your home. Please let us know when this happens, and our team can perform a detailed materials inventory.
Stay safe. Keep kids and pets clear of the work area.
Protect your exterior. Prepare for the project by removing all objects around your home that you wouldn't want to be damaged from falling roof debris. These items may include patio furniture, grills, potted plants and gardening equipment.
Protect your interior. Take all picture frames and mirrors from the walls and remove plates and collectibles from shelving, as the vibration from the work could knock them loose.
Maintain easy access. Park any cars, motorcycles, bikes and boats away from the driveway, as we will need constant access via that route.
Keep your lawn trimmed. Fallen nails can be hard to spot in tall grass, so make sure you keep your lawn neatly trimmed. Kerrigan Roofing and Restoration does use a magnetic roller to pick up nails each day, but a trimmed lawn makes this process easier and more effective.
Cover your plants & shrubs. While we do take every precaution to ensure falling roof debris doesn't hit your flowers and plants, it can and does happen. This is particularly common if you have a very steep roof. It's a similar situation with gutters. While we do take care to prevent gutter damage, beware that it's sometimes unavoidable.
Don't wait around for us on rainy days. We can't work on rainy days, so we won't show up in those instances. However, we only tear off what we can replace in a single day, so your home's interior is never exposed to the weather.
Kerrigan Roofing and Restoration makes every effort to ensure the seamless progression of your roof replacement project, and we always keep your safety in mind. Our qualified and reputable roofers would love to meet your roofing needs, so please give us a call at (937) 848-6056 in Xenia or (614) 373-2519 in Dublin, or contact us online to learn more about our processes, rates and schedule.
"(Required)" indicates required fields