Factory-Certified Roofers Installing Long-Lasting GAF Roof Systems
At Kerrigan Roofing and Restoration, we place a big emphasis on quality. That's why we're so proud to use GAF products. GAF is North America's largest manufacturer of commercial and residential roofing, and their products make roofs safer and last longer than any other product out there. In fact, GAF is rated #1 in shingle quality and is a top choice for shingles and ridge ventilation by home builders and contractors alike!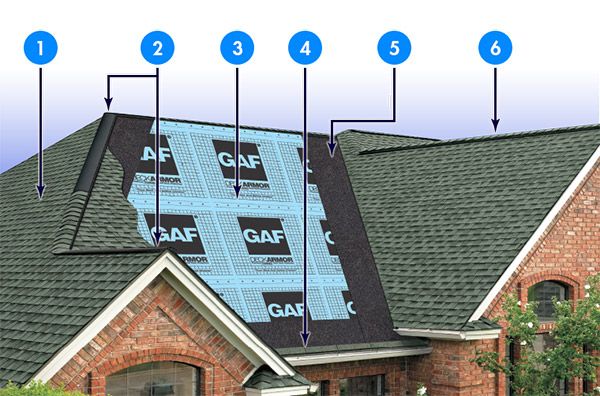 When our roofers install high-quality GAF roofing materials, your roof will benefit from longevity and durability. And because Kerrigan Roofing and Restoration is a factory-certified GAF Master Elite® roofing contractor, we can ensure the highest quality products and services for your project. As a Master Elite contractor, you can trust us to be:
Fully licensed by the state to perform all types of roofing work (License # HIC-L00026)
Fully insured for your protection
A reputable company in the community
Committed to ongoing professional training
Only 3% of all roofers in the country qualify as GAF Master Elite, so when you trust your project to Kerrigan Roofing and Restoration, rest easy knowing we'll take great care of you and your roofing system!
The GAF Lifetime Roofing System
The roof is a complex home system where many parts need to work together to provide protection. Kerrigan Roofing and Restoration is proud to install the GAF Lifetime Roofing System, featuring the following:


Starter Strip Shingles. These strips prevent shingles from blowing off in strong winds. They are installed along the eaves where heavy winds are most likely to cause damage. In most cases, starter strips can qualify you for upgraded wind warranty coverage from GAF.
Leak Barrier. This is a self-adhering, watertight membrane to protect the most vulnerable spots of your roof. It also protects against leaks that can result from roof settling or harsh weather.
Premium Asphalt Shingles. Once these components are in place, our experts will install the shingles. GAF offers dozens of Lifetime shingle options so you can be sure to get one that suits your home, style and budget.
Ridge Cap Shingles. These components reinforce the hips and ridges of your roof and help protect against leaks. They also provide aesthetic appeal to your roofline.
Roof Deck Protection. This crucial component shields your roof from the impact of strong winds and heavy rainfall that may blow beneath the shingles. It also promotes the escape of moisture from your attic.
Cobra® Attic Ventilation. This ridge vent helps remove excess heat and moisture from your attic. As such, it also contributes to your energy savings.
Learn More About Beautiful, Functional & Affordable GAF Roof Systems
Contact Kerrigan Roofing and Restoration at (937) 848-6056 in Xenia or (614) 373-2519 in Dublin, or online to learn more about how GAF roofing systems can benefit your home or business. Our talented roofers have over 10 years of experience installing high-quality GAF products, so reach out and let us bring dependable protection to your roof!
"(Required)" indicates required fields