Premier Roof Repair Specialist Serving Homes & Businesses in Central Ohio
When a leak, ice dam, storm damage or some other issue is threatening the health and safety or your roof, turn to the experts at Kerrigan Roofing and Restoration LLC. Our talented team can personalize a quality repair plan that targets the specific area or problem impacting your roof. We don't want you to spend more money than you need to, so let our knowledgeable specialists quickly pinpoint the exact cause of the problem and create an affordable roof repair solution.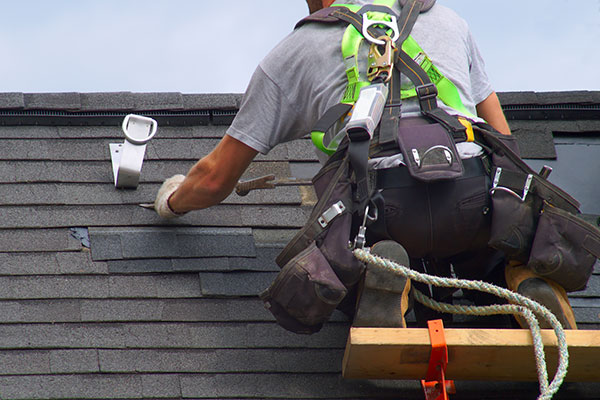 Common Signs of Roof Damage
Roof damage can be caused by severe weather, old age, sub-par materials or a combination of all three. Regardless of what's causing the damage, there are some common signs you can be on the lookout for. If you notice any of the following, contact Kerrigan Roofing and Restoration for a complete roof inspection:
Blistering, cracking, dented or flaking roof material
Pools of standing water on portions of the roof
Broken, cracked, corroded or rusted flashing
Leaky skylights
Stains on interior ceilings, in the attic & on walls
Ice dams at roof edges
Storm damage
As an Angie's List Super Service Award winner, Kerrigan Roofing and Restoration is proud of our history of providing customers the highest quality roof repair services. Those top-notch services combined with solid warranties, durable materials and budget-friendly rates mean you'll get an exceptional experience through every phase of your roof repair project!
Full-Service Roof Repair Solutions
Kerrigan Roofing and Restoration wants you to feel secure under a sturdy, long-lasting, leak-free roof. To make that happen, we offer several reliable roof repair services, including:
Roof inspections
Leak patching
Damaged shingle repair
Replacement of broken or corroded flashing
Replacement of vents, soffits & other accessories
Skylight sealing
Upgrades
Request a Free Roof Inspection
If you're concerned about the condition of your roof, contact Kerrigan Roofing and Restoration at (937) 848-6056 in Xenia or (614) 373-2519 in Dublin, or online. We offer free roof inspections and estimates, so you can easily find out the state of your roof with no obligation or pressure!
Allowing minor repairs to languish without resolution can make for bigger and more expensive headaches down the road, so reach out to Kerrigan Roofing and Restoration and let us bring peace of mind to your roof!
"(Required)" indicates required fields